Attractions
Things To Do in Historic San Jose
San José is the bustling capital of Costa Rica, a small country worldwide known for its great diversity of things to do. Its concentration of natural resources, abundant areas of valuable historical and archaeological interest, and beautiful and well-kept beaches and parks make it a cherished destination for travelers worldwide.
Both in and around San José, the natural settings offer an incomparable setting for lovers of nature and outdoor activities and things to do, such as mountain hikes to Pico Blanco, checking out the restaurants, cafés and nightlife in Barrio Escalante or Barrio la California and coffee tours in Herredia. Costa Rica demonstrates the typical culture of a Latin country with flavor, strength and joy. The customs and traditions cover all the manifestations of daily life and other typical reflections of the people.
It preserves its folkloric traditions, such as the national dance called "Punto Guanacasteco", the "Mascaradas", to the rhythm of a Cimarrona, which are carried out during the celebration of the Patron Saint Festival of any town.
La Sabana Metropolitan Park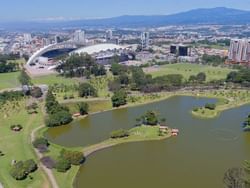 Located in the Mata Redonda district, this 72-hectare complex for sports, culture and recreation is notable for its flora, fauna and wide open spaces.
National Museum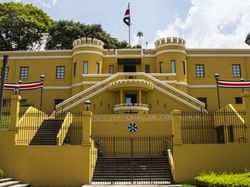 This museum exhibits a wide collection of pre-Columbian and historical objects from the Colonial era and the beginning of the Republic.
Museo del Oro Precolombino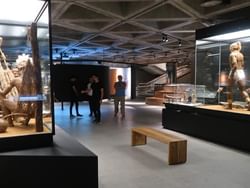 Located in the Plaza de la Cultura, this museum features a permanent exhibition of pre-Columbian objects made with the precious and valuable gold metal.
Teatro Nacional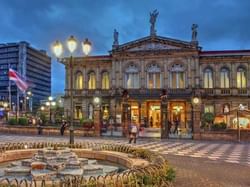 An architectural jewel built in 1897, this theater is considered the symbol of Costa Rican culture.
About Costa Rica
Costa Rica, with a small indigenous population, such as the Chorotegas in northern Costa Rica, is influenced by both Mayan and Aztec culture. This town was considered as the Mesoamerican culture that was further south. The Guanacaste area was the point of convergence of northern and southern cultures. For its verification, there are ceramic pieces found in the area that are currently in the National Museum, with both Aztec and Inca figures and designs in the same piece.
Currently, the country has a robust public health system, which, led by the Ministry of Health, gives the population universal access to vaccination, preventive and control medicine, medicines and phytosanitary measures such as drinking water throughout the country, therefore that you can have a safe trip. There are also helpful and friendly police to ensure safety for all.